Liberatory Learners Interns
Liberatory Learners is a part of the SYEP program, hiring students from NYC, since 2021.
Intern Bios(left to right, top-down):
Harriet Kim(2021 Summer: Plastic Research Intern)
Hi! I'm Harriet, and I'm a sleep-deprived teenager who may or may not have her priorities straight. I am a terrible procrastinator yet I somehow manage to submit things on time. I also love money (hence why I am so grateful I got in this program) but at the same time, I am also dedicated to our cause and want to contribute to helping our world use less plastic! 🙂
Wei Ting Tian(2021 Summer: Client Acquisition Intern)
Hello there, I am a rising senior at the Stony Brook University, double majoring in business management and psychology. My interest outside of work and school includes reading, traveling and watching reality show. I am a adventurous person so I am always looking for new thing to tries, can be professional or leisure. Working with organization like Titties for Change is new experience for me. Therefore, I am looking forward to see how I can grow with Titties for Change in fighting for a plastic-less world.
Ivy Lin(2021 Summer: Improve the World Documentary Research Intern)
Ivy Lin is a rising senior at Stuyvesant High School who is interested in architecture and business. Her hobbies include dancing, drawing, and playing instruments. She is passionate about keeping the planet healthy and will be finding ways to promote plastic-less, healthy foods through toying with Minecraft and creating documentaries. She will conduct research and brainstorm alternate food products/vending machine functions to create the foundations for better vending machines. Ivy is excited to use her artistic and creative skills and direct her enthusiasm towards this project.
Anthony Lim(2021 Summer: Social Media and Marketing Intern 1)
Hello! This summer, I will be managing the social media accounts, specifically Facebook and Tiktok. In my free time, I like to go on walks around my neighborhood and hang out with friends. Through this internship, I hope to improve my social media skills and create posts that'll further the cause of Liberatory Learners and Titties for Change. I also want to learn more about how we can better our world by going to a plastic-less world, and also trying to teach others about this through the use of social media.
Jason Pan(2021 Summer: Research Intern)
Heyyy this is Jason. This is officially the 19th year of me having chronic back pain (jk). I grew up in Fujian, China, and moved to the states when I was in middle school. I'm currently a rising sophomore at Cornell University majored in chemistry and statistics, looking forward to contribute to Hannah's team with my science background. One fun fact about me is that I lost 70 pounds in three months after quarantine started (I was 230 pounds at my heaviest). Outside of doing research, I enjoy rehearsing songs with my A Cappella group, making harmonies with the chorale, and find nice restaurants and cafes to hang out with my friends. I hope to improve my paper reading skills and information possessing ability throughout this internship, as well as collaborating with an amazing team. I look forward to spend a wonderful six weeks in this program!
Jimmy Liu(2021 Summer: Business | Close and Get Things Done Intern)
Hello I'm Jimmy Liu! I am currently a rising senior in Bayside High School studying in Humanities & Non-Profit Management. I love to chill with friends and work together, which is strange cause I somehow always finish my work in time. One of my favorite hobbies is performing magic to my school, family, and community. Talking about community, that's also one of the reasons why I want to join Liberatory Learners. To save the world from plastic and to see a world that's greener and bluer for the future generations.
Richard Lu(2021 Summer: Social Media and Marketing Intern)
Hello, I'm Richard. Nice to meet you! I'm currently a rising senior at Townsend Harris High School. At this internship, I'm managing both the newsletter and the Twitter account. With this opportunity I want to increase my expertise in social media, improve my leadership skills, and enhance my team working abilities. I'm grateful to have this chance to gain insight into this field of work. Outside of learning, I love to watch reality TV shows and anime, and cook dinner with family.
Minghui Zheng(2021 Summer: Social Media Intern 3)
Minghui is a rising junior studying Computer Science at University of Rochester. Outside of school, she loves photography and hanging out with friends. She cares about our collective environment and try to take small steps in life to reduce the waste. She uses a reusable water bottle, takes electrical notes, and donates old clothes. She resonates with the mission of Liberatory Learners and hope to educate kids about the importance of reducing the use of plastic.
Webber Qu(2021 Summer: Video/Podcast Editor)
Hello! I am a rising junior at the University of Michigan majoring in Nuclear Engineering because I am passionate about ways to produce clean energy and reduce carbon emission. I noticed that my ambitions align well with what we are doing here at Titties for Change. In terms of this internship, I will be mainly editing videos and podcasts. I also want to understand how to start up and build a small company so picking up and improving my skills in communication, finance, and leadership will be crucial to one day creating change and making a difference.
Nina Li(2022 Winter)
Hey! I am Nina, a current freshman at Stony Brook University majoring in Health Science in the pre-nursing track, and am considering a minor in Korean Studies. My hobbies include baking, shopping as well as dancing (I am on a dance team here at Stony Brook!) During this internship, I hope to expand my network and build on my teamwork skills to help assist the team here at Titties for Change and Liberatory Learners.
Hana Jang(2022 Winter)
Hi, my name is Hana and I'm a biology major on a pre-veterinary track at Stony Brook University. I love eating good food and spending time with friends.
Icarus Walker(2022 Winter)
Zachary "Icarus" Walker is a 20 year old filmmaker and photographer from New York City. His love for film has allowed me to create short films.
Kyle Liao(2022 Summer: Web Dev and Business Intern)
My name is Kyle Liao and I'm a junior at Thomas A. Edison CTE HS in their cybersecurity program. You can find me on https://kyleliao.tech for all the things I'm working on. Interning at Liberatory Learners, because it's a fun fight and it's worth it.
Caroline Huang(2022 Winter and Summer: Information Analyst Intern)
Hello, my name is Caroline Huang and I am a current junior at Cornell University. My major is Computer Science, however, I am also pursuing a minor in Information Science, specifically in the Data Science field. During this internship, I want to be able to come up with ways to make a curriculum in simulating a way to build precious plastics. Making precious plastics is a method to turn the disposable plastics we have into other products that can still be useful.
Emma Yautung(2022 Summer: Video and Documentary Intern)
Not Pictured above:
Madison Manente(2021 Summer: Graphic Designer and Illustrator)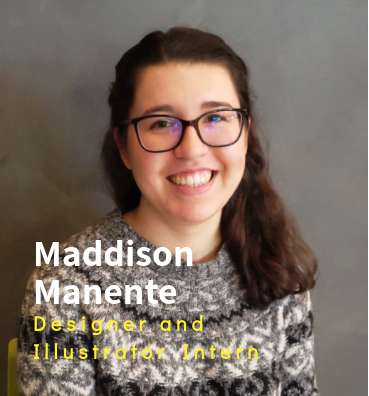 Maddison is a recent graduate from Pratt Institute with a BFA in Communications Design and a concentration in Illustration. She's passionate about designing engaging, educational and uplifting content for children and young adults. She loves challenging herself with new tools and techniques and always has a plethora of exciting and imaginative ideas bubbling in her mind. Maddison has many skills in her toolbox, including coding, motion design, graphic design and illustration expertise.\
Palden Sherpa(2021 Summer: Social Media and Global Marketing Intern)
Hello, This is Palden. I was born in Solukhumbu, Nepal, and moved to the states when I was ten years old. I grew up learning about both the western and Nepali/Sherpa culture. I'm currently a rising sophomore majoring in psychology and minoring in marketing. My hobbies are painting, dancing (traditional Sherpa & Nepali dances), baking, and spending time with my puppy. In Hannah's team, I will be focusing on managing the social media team with the other four interns. During this summer, I hope to gain more knowledge about social media and learn marketing strategies.